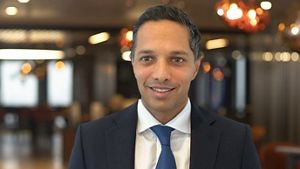 Kunal Oak
Head of Product Strategy & Solutions
Joined Aviva Investors in 2020
Main responsibilities
Kunal is responsible for developing the product strategy for Aviva Investors and lead Investment Director for ESG and Solutions.
His responsibilities include strategic product development to support delivery of Aviva Investors' business plan, aligning Aviva Investors' capabilities to evolving customer needs, and the commercialisation of Aviva Investors ESG and Solutions capabilities through developing the messaging, products and overall go to market proposition.
Kunal is board director on Aviva Investors' Luxembourg domiciled SICAV range.
Experience and qualifications
Until April 2018, Kunal was the Global Head of Product Development & Management at Aviva Investors, responsible for all new product development and the management of Aviva Investors' existing product portfolio, globally and across all asset classes.  He joined Aviva Investors in 2011, responsible for corporate and product development for the Real Estate business.
Prior to this, Kunal worked in Aviva Europe where he was involved in M&A and restructuring of the region's investment management activities and with the Aviva Group Strategy team for three years. Before embarking on a career in Aviva, Kunal spent four years with Deloitte in their strategy consulting and transaction services teams.
Kunal brings over 15 years of strategy consulting, corporate development and product development experience across insurance and asset management.
He has a MA in International Political Economy and BSc in Management Science, both from Warwick University.