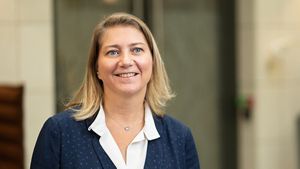 Sandra Soyer-Berling
Senior Research Analyst
Main responsibilities
Sandra is a senior credit analyst, covering the Consumer sector on a global basis and the Retail and Real Estate sectors on a European basis from our Paris office.
Experience and qualifications
Prior to joining Aviva Investors, Sandra worked as a sell-side credit analyst at Natixis where she covered the Retail and Consumers sector. She began her career at HSBC as a sell-side equity analyst, covering the building materials and construction sector on a pan-European basis, then the IT services sector. She pursued her career within HSBC as a credit rating advisor for corporate.
Sandra holds a BA in Economics, majoring Finance and a Master's degree in managing banking and financial institutions from the University Paris-Dauphine. She has also a diploma from the SFAF (Société Française des Analystes Financiers).