The latest assessments from climate scientists suggest some geographical zones that have been lived in for thousands of years are becoming uncomfortably hot and fire-prone or wet and vulnerable to flooding. How will humanity adapt to new extremes? Rick Stathers assesses the evidence.
The human body has long proven its adaptability to changes in the environment. As air temperature and humidity changes, the systems that coordinate around 100 trillion cells work in unison to keep the body functioning. It makes adapting to temperatures between around four and 35 degrees Celsius (C)1 relatively easy, as the diverse distribution of human settlements around the world reflects.
But what happens if global temperatures continue to rise?
This year, it has been hard to miss reports of areas where temperature records have been broken. A shattering heatwave in the Pacific Northwest, Arctic zones reaching over 30 degrees C in summertime and new highs in Africa are examples that continue a worrying trend. The latest climate summary from the Intergovernmental Panel on Climate Change (IPCC), published in August 2021, revealed how each of the last four decades has been successively warmer than the preceding ones, while the last seven years (2014-20) have been the hottest on record.2
Facing crisis cascades
So, what does it mean on the ground? "We have a climate crisis fuelling cascading health, power, and transportation crises," noted Constantine Samaras, associate professor of civil and environmental engineering at Carnegie Mellon University in the US, as temperatures reached over 44 degrees C in Oregon.3 Thousands sweltered under stay-at-home orders and turned up the air conditioning. The solution backfired, though: surges in electricity demand caused cables to melt and triggered power outages.
Much of today's infrastructure was not created for climate extremes
It is a sobering reminder that much of today's infrastructure was not created for climate extremes. And there is a cruel irony in that switching on more cooling devices will worsen the problem, due to the warming impact of early generation refrigerants and the energy required to run them.
There are physical limits to contend with too in the form of an upper temperature bound above which human activity becomes difficult or even impossible (see Figure 1).
Nausea, cramp and an inability to focus have been reported in recent heatwaves, hitting lower-income groups, particularly those carrying out low-paid, physical work outdoors. At the extreme, there is a point when irreversible brain damage and, ultimately, death can occur. Issues with heat stress also exist for domesticated animals and in agricultural crops: above certain thresholds, productivity and fertility fall.
Figure 1: Are you feeling comfortable? The human climate comfort zone
Source: Aviva Investors, September 2021. Originally adapted by M.A. Maslin from T.R. Oke, 'Boundary layer climates', 1988
These issues need urgent attention. "Without action to mitigate climate warming, the temperature experienced by an average person is expected to change more in the next few decades than it has over the past six millennia," wrote the authors of a recent paper published in Proceedings of the National Academy of Sciences of the US.4
If warming persists, they conclude the world's hot zones might expand from one per cent to 19 per cent of the earth, with massive implications.
If fertile zones continue to become hotter and drier or atmospheric changes trigger super-charged downpours, existing food and water systems will be tested, and human productivity will fall. The hours of work lost to extreme heat will increase, which could trim GDP noticeably (in excess of seven per cent) in countries like India, Bangladesh and Pakistan, according to McKinsey.5 Across the globe, the result might be more than a billion people on the move, seeking more temperate climes, with dramatic geopolitical consequences.
Figure 2: The changing human climate niche by 20706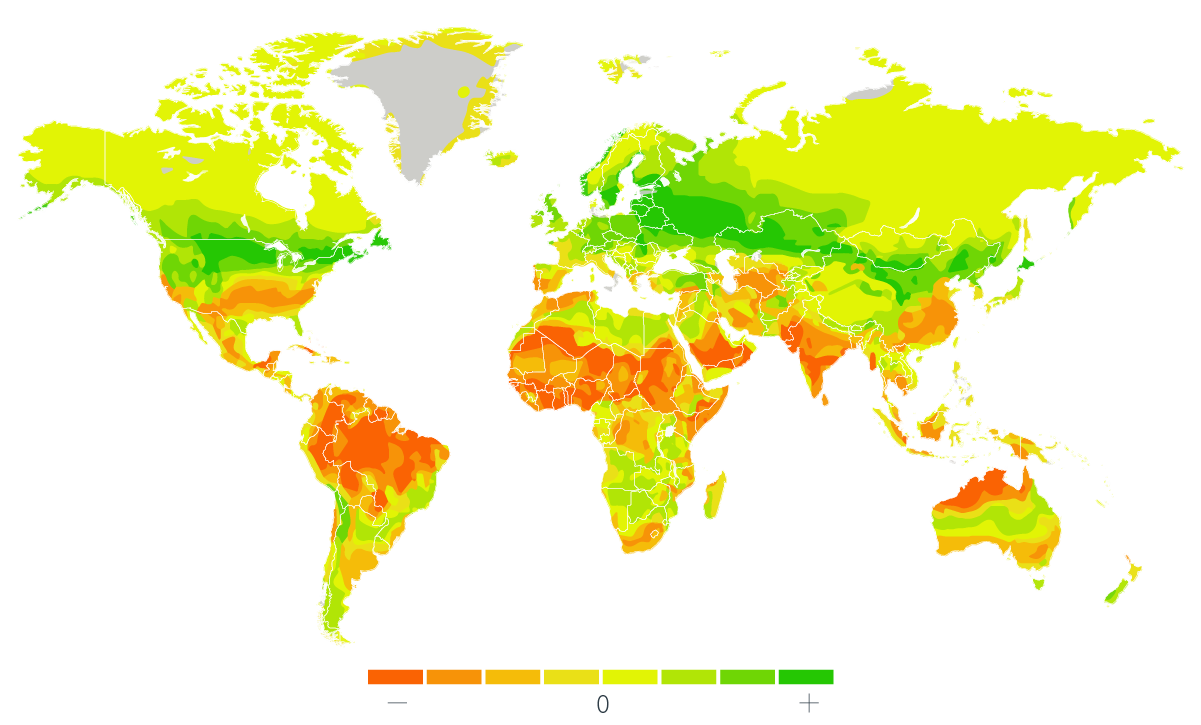 Note: Potential source (orange) and sink (green) areas if humans relocate to maintain existing temperature preferences.
Source: PNAS, May 26, 2020
Adapting for climate extremes
This should be a wake-up call for societies everywhere because change on this scale need to be anticipated and planned for. Data from the World Meteorological Association suggests climate and water-related disasters have already increased five-fold between 1970-2019, causing millions of deaths and costing an average $202 million each day.7 There is still time to mitigate some future climate impacts, (although the window to do that is small), but we also need to think much more deeply about how to adapt.
The speed at which the climate is altering and the cascading effects is different
This is not a new question, of course, because the whole of human history has been about change. What is different is the speed at which the climate is altering (thought to be around ten times faster than in the past8) and the potential for cascading effects while humanity continues to live outside planetary boundaries.
For example, if a heatwave coincides with a long-running drought, as it has in the US, there is very little moisture in vegetation or soils to blunt temperatures through transpiration and evaporation. It inhibits the formation of clouds, which extends the cycle, in turn increasing fire risk. It means depleted waterways, hydro plants that cannot generate power, farmers that cannot irrigate and firefighters experiencing traumatic stress – all of which have occurred this year.   
It is also worth noting the greatest climate warming is currently being reported in the poles. That has implications for the volume of snowmelt and sea level rise, and the amount of methane released as permafrost melts.
It is near-impossible to anticipate how any natural feedbacks might amplify ecosystem responses. On the front line are 267 million people living less than two metres above sea level9, with homes vulnerable to chronic flooding in high tides and wild storms.  
Creating a more resilient world
Energy, transport and communications networks will need to be more resilient
In a hotter world, hundreds of millions will need support. While some assets will become wholly redundant, there will be opportunities for those creating and managing new physical infrastructure. Energy, transport and communications networks will need to be reshaped to be more resilient. The power grid will need to be hardened, potentially boosting the earnings of cable manufacturers and the producers of system controls.
Ensuring food and water supplies are also urgent priorities. Precision irrigation could make a difference here; farmers' ability to draw on detailed data on terrain and hydrology at the field level could reduce water inputs and boost crop yields per drop. Overall, the availability of water is expected to become a much greater concern, either due to drought or on the back of extreme weather, as many different users compete for this essential resource. Companies providing technologies that can monitor leaks, enable water to be re-used or control flows of wastewater may have scope to grow.
Species other than humans have already begun to change. Can human societies do the same?
But there are still big questions to be resolved. Who will fund the changes? Some of the most vulnerable are also among the world's poorest. Should the adaptations be hard (human-led, technological) or soft (nature-based)? These are conversations that need to be had, as climate impacts layer upon each other.
Species other than humans have already begun to change. Migratory patterns have shifted, and biologists are also investigating physical adaptations in birds and others to help them cool faster. Bacteria and fungi are shape shifting too, evolving for tomorrow's world. With all the political, social and environmental constraints, can human societies do the same?
There are no easy answers, but, with less than ten years remaining of the 1.5oC carbon budget at current emissions rates, the climate system will increasingly force us to confront these questions.