--
Note:
We recognise the concept of neurodiversity is often skewed towards 'high-functioning' individuals or those with milder forms of the respective conditions, and that 'low-functioning' individuals can often be significantly impaired in their everyday activities.1 We respect this reality and wanted to clarify that, as this article aims to discuss the challenges and opportunities in fostering neuroinclusion in the workplace, it does focus in the main on high-functioning individuals. This is particularly the case when referring to autism.
--
In his 2020 book, Grow the Pie: How Great Companies Deliver Both Purpose and Profit, Alex Edmans, professor of finance at London Business School and academic director of the Centre for Corporate Governance, states that companies do not have to choose between doing the right thing and being profitable.
Making a workplace more diverse and inclusive to harness diversity of thought is a textbook example. Companies that do the right thing for their employees also stand to benefit from improved risk management, more innovation, and better representation of their client base.2
In this regard, improving gender and ethnicity representation, while hugely important, might only help 'perceived' diversity. Unless backgrounds and broader diversity characteristics are considered as well, focusing only on them will not necessarily result in more diverse thinking. A more holistic view of diversity is required, one that focuses on achieving genuine cognitive diversity.3
Neurodiversity is a vital piece of this puzzle, yet in many companies it is barely mentioned – if at all.
All shapes and sizes
The term 'neurodiverse' refers to variations in learning, sociability, attention, and other neurological functions. It commonly covers autism, dyslexia, dyspraxia, dyscalculia, attention-deficit/hyperactivity disorder (ADHD), obsessive compulsive disorder, tics, and Tourette's. The term 'neuroinclusion' is also increasingly used to describe the sub-category of workplace diversity and inclusion that focuses on neurodivergent individuals.
Without adjustments, many struggle to thrive at work
Outdated job interview and performance review processes, open plan offices, meetings that play to 'bigger' personalities and office cultures where disclosing a condition is seen as high risk create obvious challenges. Without adjustments, many struggle to thrive at work. That represents a large talent pool companies are not fully tapping into.4
Figure 1: Traits commonly seen in neurodiverse people5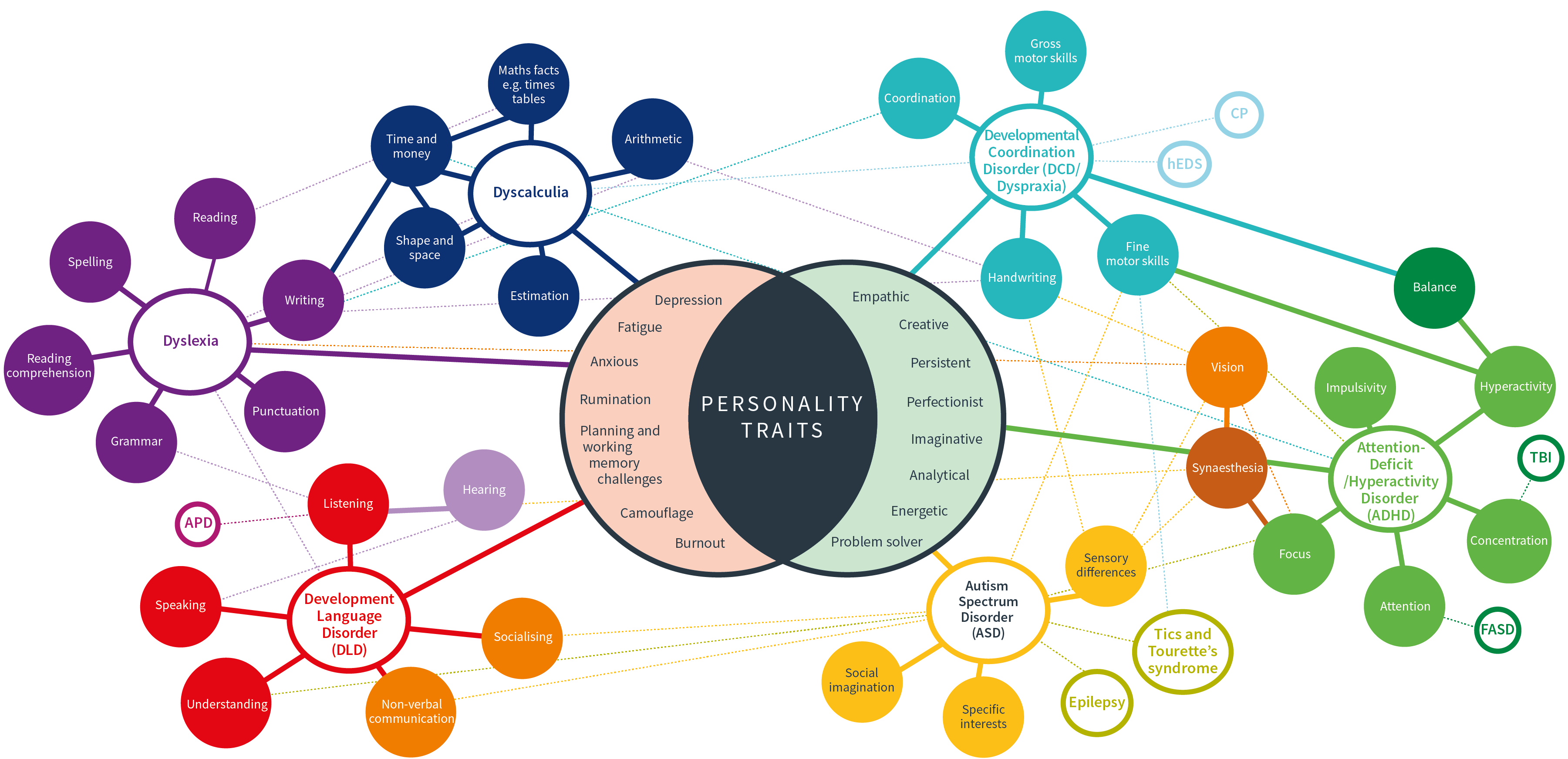 Note: APD = Auditory Processing Disorder; CP = Cerebral Palsy; FASD = Fetal Alcohol Spectrum Disorder; hEDS = Hypermobile type Ehlers-Danlos syndrome; TBI = Traumatic Brain Injury.
Source: Do-IT Solutions Ltd, October 1, 2020. Updated July 2021

Dr Nancy Doyle, founder and chief research officer of Genius Within CIC, a social enterprise dedicated to facilitating neurodiversity inclusion, adds such adjustments are money well spent.6
Doyle believes one of the key motivations behind creating a neuroinclusive work culture is an inability to stay silent in the face of injustice. "Those who are leading this cause tend to have personal experience, either directly or through family members," she says.
A neurodiverse working culture allows everyone to contribute to the best of their abilities
A neurodiverse working culture also allows everyone to contribute to the best of their abilities and add skillsets that are particularly well suited to certain tasks.
Ian Iceton is an ambassador for the Diversity Project, the cross-company initiative looking to improve diversity in the investment industry, and currently writing a PhD thesis on the recruitment and retention of autistic people in the workplace. Through his research, Iceton has observed that, in learning to manage neurodiversity, team leaders have to become much better managers for all their people.
To reap these rewards, however, companies must overcome several obstacles.
The challenges to creating a neuroinclusive environment
The first challenge is that less progress has been made on neuroinclusion than other parts of the D&I agenda, in large part due to a general lack of awareness.
Neurodiversity hasn't had the political backing and big campaigns other areas of diversity have
"When I started my doctorate five years ago, neurodiversity was hardly talked about," says Iceton. "I see a lot more attention now, but it hasn't had the political backing and big campaigns other areas of diversity have."
He adds many people are undiagnosed or diagnosed late in life, while others are reluctant to disclose their diagnosis. Coupled with the huge spectrum of diversity within the neurodiverse community itself, it means companies today underestimate the proportion of neurodivergent individuals in their workforce and are ill-equipped to understand or get the best out of them.
"A lot of people are still under the impression that neurodiversity only affects a very small proportion of their workforce," says Meike Bliebenicht, neurodiversity workstream lead at the Diversity Project. "And once they understand that prevalence is around 15 per cent, neurodiversity seems very complex initially. The fact some neurodivergent conditions are classified as disabilities probably increases that perception of complexity."
 Neurodivergent individuals face pressure to conform to 'conventional' ways of doing things
A common problem facing neurodivergent individuals is the pressure to conform to 'conventional' ways of doing things. This is evident even before they join a company.
Faced with working environments that are not set up for neuroinclusion, it is perhaps not surprising many neurodiverse employees do not disclose their condition at work, fearing being labelled or discriminated against.
Other issues also arise, from missing out on neurodivergent applicants in the interview process to hindering employees' productivity and wellbeing. Iceton says mental health is a particular problem.
What it takes to be neuroinclusive
The Diversity Project sums up the neurodivergent community's main ask, which is for companies, HR and managers to stop imposing 'normal', acknowledging everyone is different and will have different needs. They write: "A healthy attitude for organisations to adopt is to not assess people by how they get the job done, but by what they deliver. To harness the benefits of neurodiversity, it is key to adopt a results-oriented rather than process-focused approach."7
Inclusive leaders give their team members enough room to apply the approach that works best for them to achieve results
In terms of recruitment, this means giving up some social biases and creating inclusive job designs. "We don't need all analysts to have 'influencing skills' or be fantastic at 'teamwork'; we need them to be accurate," explains Doyle.
When it comes to management, Bliebenicht says it is important to focus on results over process and avoid micromanagement, to encourage creative and lateral thinking.
"Inclusive leaders give their team members enough room to apply the approach that works best for them to achieve results," she says.
Small adjustments, big results
Enabling neurodiverse people to work to the best of their ability does require companies to adjust.
One simple change that can make a huge difference is being clear in instructions and other communications.
The Diversity Project also notes many neurodivergent brains benefit from 'hyper-focus', the ability to deeply concentrate for long time periods. However, many can also be prone to overstimulation, with stronger audio or visual sensitivities. Traffic in the corridor or noise in the kitchen can interrupt their concentration, but this is easily remedied by letting people wear headphones, providing quiet areas or allocating specific desks.8
Taking a different approach to working hours and ways of working can also help neurodivergent colleagues – and many others. Emailing to ask for a chat, even when in the office, will be less disruptive to people's hyper-focus than dropping by their desk, while flexible hours can allow them to stay home for quiet work or to use read-aloud apps for reading assignments, or simply to avoid the sensory overload that can result from commuting during rush hour.
The Diversity Project adds that operating at the high intensity and speed of hyper-focus is not possible the whole day.
It is also important to include intersectionality in companies' thinking. Many neurodiverse people will be diverse in other ways too, whether they are women, from an ethnic minority or LGBT+ – or several at once. Individuals should be taken in all their richness and variety, so their particular challenges and skills are not overlooked or put into a convenient but ill-fitting box.9