Adam McInally
Profile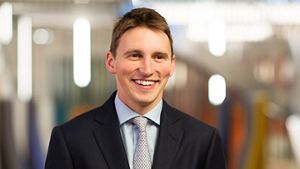 Job title
Portfolio Manager
Contact details
Work location
London, United Kingdom
Joined Aviva Investors
2009
Biography
Main responsibilities
Adam is a fund manager on our UK equity team and co-manages the Aviva Investors Small and Mid-Cap Fund as well as another segregated mandate. Adam also has lead sector coverage responsibility for Banks, Commercial & Professional Services, and Media.
Experience and qualifications
Prior to joining Aviva Investors, Adam was an investment director and fund manager in UK equities at Standard Life Aberdeen where he ran equity sleeves within the SLI multi-asset strategy, as well as managing the SLI UK Equity Unconstrained strategy from April 2017 to April 2018. Before this, Adam was an equity research analyst at Credit Suisse, where he covered the Insurance Sector. Adam holds an MSc in Management Research and a BSc (Hons) in Economics and Management both from Oxford University. Adam is a CFA® charterholder.