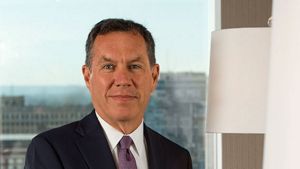 Henry W. Sanders III
Executive Vice President and Senior Portfolio Manager
Main responsibilities
Mr. Sanders serves as a portfolio manager for River Road's Dividend All-Cap Value Portfolios. Mr. Sanders holds equity in the firm and serves as a voting member of the Executive Committee, River Road's governing body. Prior to co-founding River Road in 2005, Mr. Sanders served as Senior Vice President and Portfolio Manager for Commonwealth Trust Co. (Commonwealth SMC).

Experience and qualifications
Additionally, he served as President of Bridges Capital Management and Vice President of PRIMCO Capital Management. Mr. Sanders has also served as an adjunct professor of Finance and Economics at Bellarmine University. Mr. Sanders holds a B.A. in Business Administration from Bellarmine University and an M.B.A. from the Carroll School of Management at Boston College. He earned the Chartered Financial Analyst® designation in 1992, is a member of the CFA Institute, and is a member and past president of the CFA Society Louisville.