Patricia Cross
Profile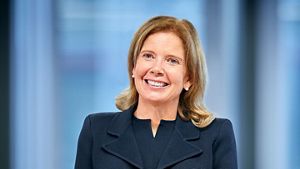 Job title
Senior Independent Non Executive Director
Contact details
Work location
London, United Kingdom
Joined Aviva Investors
2013
Biography
Main responsibilities
Patricia Cross was  appointed as Independent Non-Executive Director of Aviva Investors Holdings Limited with effect from 1 January 2017 and subsequently appointed Senior Independent Executive Director from September 2017.  Patricia is also a Board member of Aviva Plc appointed on 1 December 2013 and is currently Chair of the  Aviva Plc Remuneration Committee.
Experience and qualifications
Patricia has significant experience as both an executive and non-executive director across a wide range of financial services and other regulated industries in the US, Europe and Australia.

She is currently Chairman of the Commonwealth Superannuation Corporation (superannuation services), a Non-Executive Director of Macquarie Group Limited (banking) and Macquarie Bank Limited (banking).  She is a Director of the Grattan Institute (Australian think tank), and an Ambassador for the Australian Indigenous Education Foundation (charity). Patricia was formerly a Non-Executive Director of Qantas Airways Limited (airline) and National Australia Bank Limited (NAB) (financial services) which was a 100% owner of Clydesdale Bank plc in the UK, and previously had held a number of senior executive positions at NAB.  

She has also held Non-Executive positions at Wesfarmers Limited (conglomerate including insurance), Suncorp-Metway Limited (insurance and banking) and AMP Limited (wealth management and life insurance). She was formerly Chairman of the Qantas Superannuation Fund (pension fund), Deputy Chairman of Victoria's Transport Accident Commission (statutory insurer, Australia) and served in honorary Australian Government roles including the Australian Financial Centre Forum and the Financial Sector Advisory Council, as well as on numerous charities. She was also Executive General Manager, wholesale banking and finance at NAB, and held a number of senior executive positions at Chase Manhattan Bank and Banque Nationale de Paris (banking).
Turning talk into action
It is only through commitment, passion and genuine collaboration that we can bring our sustainable aspirations to life. In our "This is how" series, we profile some of the ways ESG helps us be better investors, for our clients, and for the world around us.
This is how