Our platform invests directly in and finances buildings and infrastructure that play a crucial role in shaping our evolving society and economy.
We recognise the unconstrained delivery of buildings and infrastructure has been a major contributor to the climate crisis. Direct emissions from buildings, power and transport are responsible for 60 per cent of UK emissions, with emissions from supporting industries further exacerbating the problem. The climate crisis now presents catastrophic risks for our clients and society.

In our commitment to achieving net zero in real assets, we outline the actions we will take to invest in low-carbon solutions and decarbonise existing assets across our portfolio. Through these actions, we will protect our clients' interests, and reduce the negative impacts of our investments on our shared environment and society.
Our commitment to our clients
We will support our clients to transition their real asset investments to net zero emissions by 2040
This means we will support our clients to reduce greenhouse gas emissions from their directly owned and financed real asset investments in line with limiting warming to 1.5 degrees. By 2040, we will support our clients to balance any remaining emissions by offering financing or direct ownership of carbon removals, such as forestry or carbon credits. Our commitment extends to client assets across our real assets platform, comprised of real estate, infrastructure, and private debt.
The scope of this net zero pathway extends to direct investments, our directly owned and managed real asset equity assets, and financed emissions, which are loans and other debt instruments made to third parties.
Our commitment will be delivered through a series of short-term investment goals, set on a rolling five-year basis. Our 2025 goals incorporate activity that has taken place this year in advance of our public commitment. 
Our progress to date
We have already made significant progress towards these goals through our activity in 2020 and historic investment and asset management initiatives. Over the past five years we have invested £500 million every year in low-carbon and renewable energy infrastructure including solar, wind and energy centres. This takes our total energy generation capacity to 730 mega watts in the UK and Europe, enough to power one million homes.
Our sustainable lending strategy was launched in 2020 through £200 million of climate transition-focused debt investments in utilities and real estate. In real estate, our smart buildings programme has delivered over £1.8 million in avoided energy costs for occupiers, and contributed to a 62 per cent reduction in carbon emissions over a five-year period since 2015.
Resources
Our investment goals and the strategy to deliver them are outlined in our commitment document, Our path to net zero. The pathway covers the entire real assets platform, focusing on origination, asset management and stakeholder engagement. As well as tackling real estate and infrastructure, the commitment extends into private debt, an area where ESG integration and alignment with climate transition strategies has traditionally been viewed as complex.
The net zero commitment complements our announcement in October 2020 to invest £3.5 billion every year in real assets in the UK and a further €5 billion in Europe over the next three years. At least £500 million of this investment will be in low-carbon or renewable assets, with the remaining invested in transition focused assets such as real estate in need of energy efficiency improvements, and social infrastructure. Existing real estate assets will be decarbonised through value-add and opportunistic investing, with assets refurbished to improve their energy efficiency, rental performance and value concurrently.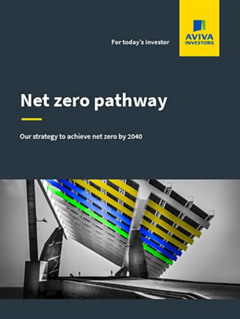 Net zero pathway
This document outlines the actions we will take to invest in low-carbon solutions and decarbonise our existing portfolio in order to look after our clients' investments and evidence how we will achieve net zero by 2040.
Sustainable transition loans framework
We are committed to reducing the carbon footprint of our portfolio and future proofing our assets against physical and transition climate risks.
Turning talk into action
It is only through commitment, passion and genuine collaboration that we can bring our sustainable aspirations to life. In our "This is how" series, we profile some of the ways ESG helps us be better investors, for our clients, and for the world around us.
This is how
Important information
Except where stated as otherwise, the source of all information is Aviva Investors Global Services Limited (AIGSL). Unless stated otherwise any views and opinions are those of Aviva Investors. They should not be viewed as indicating any guarantee of return from an investment managed by Aviva Investors nor as advice of any nature. Information contained herein has been obtained from sources believed to be reliable but has not been independently verified by Aviva Investors and is not guaranteed to be accurate. Past performance is not a guide to the future. The value of an investment and any income from it may go down as well as up and the investor may not get back the original amount invested. Nothing in this material, including any references to specific securities, assets classes and financial markets is intended to or should be construed as advice or recommendations of any nature. Some data shown are hypothetical or projected and may not come to pass as stated due to changes in market conditions and are not guarantees of future outcomes. This material is not a recommendation to sell or purchase any investment.
In Europe this document is issued by Aviva Investors Luxembourg S.A. Registered Office: 2 rue du Fort Bourbon, 1st Floor, 1249 Luxembourg. Supervised by Commission de Surveillance du Secteur Financier. An Aviva company. In the UK Issued by Aviva Investors Global Services Limited. Registered in England No. 1151805.  Registered Office: St Helens, 1 Undershaft, London EC3P 3DQ.  Authorised and regulated by the Financial Conduct Authority. Firm Reference No. 119178.
In Singapore, this material is being circulated by way of an arrangement with Aviva Investors Asia Pte. Limited (AIAPL) for distribution to institutional investors only. Please note that AIAPL does not provide any independent research or analysis in the substance or preparation of this material. Recipients of this material are to contact AIAPL in respect of any matters arising from, or in connection with, this material.  AIAPL, a company incorporated under the laws of Singapore with registration number 200813519W, holds a valid Capital Markets Services Licence to carry out fund management activities issued under the Securities and Futures Act (Singapore Statute Cap. 289) and Asian Exempt Financial Adviser for the purposes of the Financial Advisers Act (Singapore Statute Cap.110). Registered Office: 1Raffles Quay, #27-13 South Tower, Singapore 048583. In Australia, this material is being circulated by way of an arrangement with Aviva Investors Pacific Pty Ltd (AIPPL) for distribution to wholesale investors only. Please note that AIPPL does not provide any independent research or analysis in the substance or preparation of this material. Recipients of this material are to contact AIPPL in respect of any matters arising from, or in connection with, this material. AIPPL, a company incorporated under the laws of Australia with Australian Business No. 87 153 200 278 and Australian Company No. 153 200 278, holds an Australian Financial Services License (AFSL 411458) issued by the Australian Securities and Investments Commission. Business Address: Level 30, Collins Place, 35 Collins Street, Melbourne, Vic 3000, Australia.
The name "Aviva Investors" as used in this material refers to the global organization of affiliated asset management businesses operating under the Aviva Investors name. Each Aviva investors' affiliate is a subsidiary of Aviva plc, a publicly- traded multi-national financial services company headquartered in the United Kingdom. Aviva Investors Canada, Inc. ("AIC") is located in Toronto and is registered with the Ontario Securities Commission ("OSC") as a Portfolio Manager, an Exempt Market Dealer, and a Commodity Trading Manager. Aviva Investors Americas LLC is a federally registered investment advisor with the U.S. Securities and Exchange Commission. Aviva Investors Americas is also a commodity trading advisor ("CTA") registered with the Commodity Futures Trading Commission ("CFTC") and is a member of the National Futures Association ("NFA").  AIA's Form ADV Part 2A, which provides background information about the firm and its business practices, is available upon written request to: Compliance Department, 225 West Wacker Drive, Suite 2250, Chicago, IL 60606.
Responsible investment
Investing responsibly is not a fad. For us, it is an investment belief
Find out more
Real Assets
Real assets play a crucial role in shaping our evolving society. Explore our real assets range
Find out more