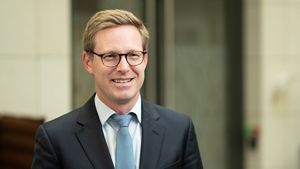 Antoine Maspétiol
Head of Private Corporate Debt
Main responsibilities
Antoine is head of private debt corporate credit at Aviva Investors France, where he is in charge of investment and fund management. Antoine's main responsibility is management of the Euro private debt corporate credit portfolio.
Experience and qualifications
Prior to joining Aviva Investors, Antoine was involved in private debt and secured funding transactions at La Banque Postale, which he joined in 2011 as deputy head of Structured Finance. He previously worked at the Royal Bank of Scotland for 9 years in London & Paris, focusing primarily on structuring, arranging, and underwriting financings for large and mid-sized companies including LBO transactions. Antoine is graduated from Institut d'Etudes Politiques de Paris and holds a post-graduate degree from University Paris Dauphine.