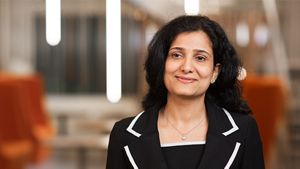 Maulshree Saroliya
Macro Strategist
Main responsibilities
Maulshree is responsible for sophisticated macroeconomic and market analysis to support the AIMS Funds and Multi-asset teams, and participating in the production of the Aviva Investors House View.
Experience and qualifications
Maulshree joined Aviva Investors in 2006 from Aviva Life in York where she was involved with the Asset-Liability Management research. She has previously worked on portfolio risk and strategic asset allocation research, which involved long-term return forecasting and model portfolio construction for long-term investing. More recently, her focus has shifted to more medium-term investment strategy where she has employed a range of analytical tools to produce actionable investment ideas. She particularly focuses on the foreign exchange markets within the broader multi-asset investment framework. Maulshree holds an MSc in Finance from University of York.