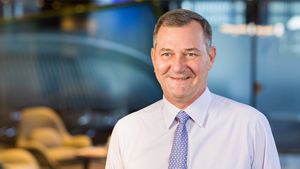 Scott Callander
Head of Asia Pacific & Middle East, Global Client Solutions
Main responsibilities
Scott is responsible for driving forward our business development strategy, leading the Asian client solutions team and the teams based in Taiwan and Australia. He has direct client responsibilities for Japan and Sovereign Wealth Funds. He is based in Singapore. 
Experience and qualifications
Scott has a long history in financial services covering key institutional investors. Prior to transferring to Singapore in July 2016 he was Head of Middle East region based in Dubai. Before joining Aviva Investors in 2010, he was Regional Managing Director, Middle East & Africa & Senior Executive Officer of AXA Investment Managers LLC based in Qatar from 2004 to 2010.
Scott began his career in 1986 as a financial adviser in the UK before moving to IFA sales in 1988 as a broker consultant for Old Mutual. Over the following 11 years, his career took him from the UK retail/wholesale segments into pure institutional roles. In 1999 he moved into international business development with American Express Asset Management – now Columbia Threadneedle. He brings considerable international asset management experience to Aviva Investors, along with a deep understanding of sovereign wealth funds and governmental related entities.