Heavy industry and heavy transport are hard to decarbonise, but this must be done to reach net-zero emissions by 2050. Can companies, policymakers and investors join forces to make it happen? The race is on…
The clock is ticking, and if we don't halve emissions by 2030, we won't ever get to net zero. We must go all-in for 2030
2030 is less than nine short years away. Making a meaningful dent in greenhouse gas emissions is within the mandate of most CEOs and government leaders, who can no longer leave it to their successors to resolve.
"It's great that CEOs have committed to net zero, but they now need to take the actions necessary for their companies to be able to get there, and they need to start today," says Mendiluce. "The thing no one has yet realised is that this is massive."
According to the World Economic Forum (WEF), heavy industry and heavy-duty transport are responsible for nearly a third of global carbon dioxide (CO2) emissions, a share that will double by mid-century unless action is taken.1 From steel to cement, plastics to transport (for global supply chains), these sectors are deeply embedded in our economies.
Figure 1: 84% of emissions from steel, cement, plastics and ammonia are hard to abate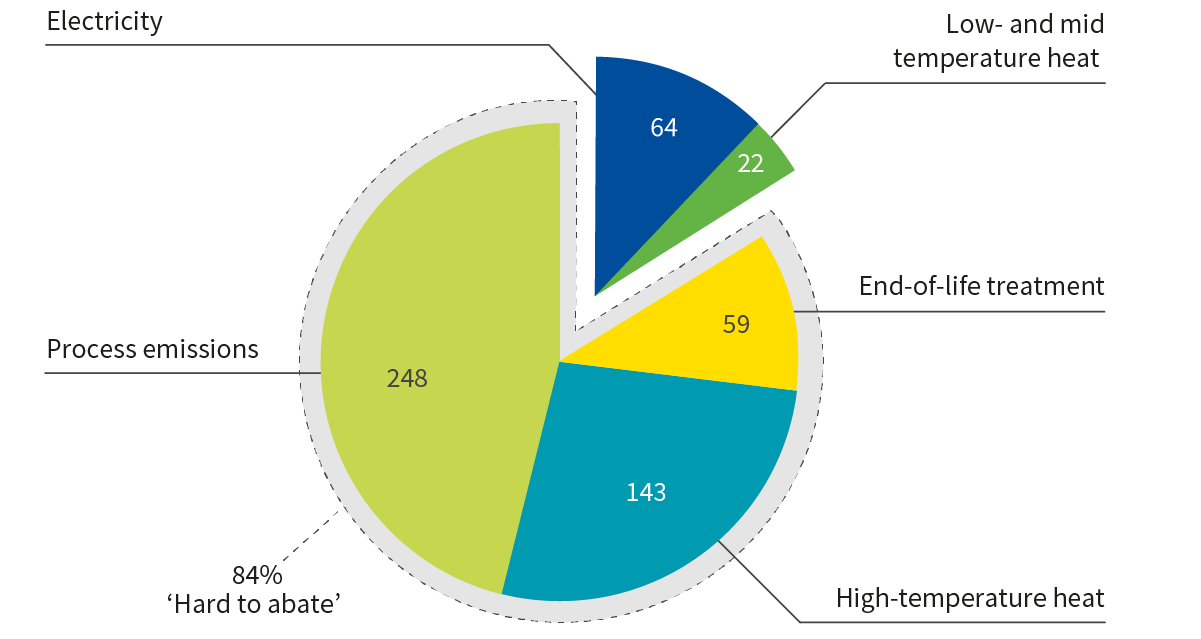 Note: 100% = 536 Mt CO2 (Total 2015 CO2 from these industries)
Source: Material Economics, 2019
Assessing the challenge
"Harder-to-abate heavy industries have traditionally been seen as too difficult technologically, too expensive, and perhaps too critical for other needs in terms of employment or infrastructure," says Robert Watt, communications director at the Stockholm Environment Institute (SEI) and head of partnerships at the Secretariat of LeadIT.2 In addition, while most sectors can decarbonise by switching their power source to electricity, in heavy transport and heavy industry it is either very hard or meaningless.
We haven't quite figured out how to power transcontinental flights or transoceanic shipping with low-carbon renewable sources
"Producing cement is a chemical process in which you take calcium carbonate and you make it into calcium oxide. That chemical process produces CO2, so even if you only use electricity to produce heat for it, it doesn't provide the answer," says Lord Adair Turner, chair of the Energy Transitions Commission, a think tank focusing on economic growth and climate change mitigation.
Sora Utzinger, senior ESG analyst at Aviva Investors, says the core of the issue is the substitutability of current raw material inputs because the energy density balance of fossil fuels remains far superior to low-carbon alternatives.
"We haven't quite figured out how to power transcontinental flights or transoceanic shipping and other industrial heavy lifting with low-carbon renewable sources," she says.
Betting on the right horse
Because the technologies are at such an early stage, it creates uncertainty for companies in terms of choosing the right option.
While policy guidance and support are necessary to create a level playing field and give direction, it may still not be enough. Some companies are entering into partnerships and exploring various technological options to identify the ones that will eventually emerge as the most efficient to scale up.
"If we look at steel, all the large players are exploring different options," says Antoine Chopinaud, credit research analyst at Aviva Investors. "Arcelor alone probably has four or five different projects running that use different sets of technologies because, although it is committed to 2050 net-zero targets, the way to meet them is uncertain."
Many firms' net-zero plans remain heavily reliant on carbon offsets
Until the way forward becomes clear, many firms' net-zero plans remain heavily reliant on carbon offsets.
Another difficulty is that the lifespan of assets in these industries is extremely long. From foundries to aeroplanes, iron-ore mines to cargo ships, anything built today is likely to still be in operation in 2050.
Watt explains this also differs from place to place, with many steel plants in Europe and parts of India coming to the end of their life, while in other areas of India some private companies' steel plants are quite modern but still using coking coal.
"2050 is only one investment cycle away, and new low-carbon technologies would have to reach a commercial threshold by the end of the decade to really make a meaningful impact," says Utzinger.
Turner says the good news is that we are already beyond tipping points in terms of ambition and commitment. "If you look across hard-to-abate sectors, leading companies are making commitments that will drive change. Arcelor Mittal, the second biggest steel company in the world, and Maersk, the biggest container shipping company, say they will be net zero by 2050," he says.
Dependencies and infrastructure
One stumbling block is that decarbonising these sectors cannot happen one foundry or aircraft at a time. The sectors are embedded in a whole network of suppliers and infrastructure, all of which must be transformed.
Governments need to be proactive and start planning as part of their net-zero commitments
"It is a physical dependence in that you need access to ports, pipelines, electricity grids, or other kind of infrastructure," says Max Åhman, associate professor of environmental and energy systems studies at Lund University in Sweden.
He explains that because the industry players typically sign long-term contracts to use the infrastructure, which contribute to their financing, negotiating early breaks will be an issue. "The next ten years are a problem," he says. "The contracts are in place; they're not that easy to evade, and they will make it difficult for the transition."
Governments therefore need to be proactive and start planning as part of their net-zero commitments. From a societal perspective, the jobs transition dimension is also a crucial dependency that should not be forgotten.
Technical solutions exist
The good news is it is technically possible to decarbonise all harder-to-abate sectors by mid-century at a total estimated cost of well under 0.5 per cent of global GDP. That is a positive starting point.3
Figure 2: Breakthrough innovation could accelerate full decarbonisation
Source: SYSTEMIQ analysis for the Energy Transitions Commission, 2018
"For flights, the current expectation is that a lot of shorter-distance trips may electrify," says Turner. "Optimists would say that by 2035 we'll have planes coming out that could fly 1,000 kilometres and 100 passengers but, at the moment, nobody is assuming that we will get batteries light enough to fly a plane across the Atlantic."
However, he is confident hard-to-abate industries can be decarbonised even with only those technological improvements that are already well under way, and relatively predictable.
Three areas, six innovations
Research shows that in addition to technologies such as hydrogen and carbon capture, materials efficiency, energy efficiency and a more circular economy are essential to reduce costs and achieve full decarbonisation.4
Figure 3: A more circular economy can cut hard-to-abate emissions by 40 per cent by 2050 (Gt CO2 per year)
Source: Material Economics analysis for the Energy Transitions Commission, 2018
Mendiluce says this entails innovation in six major areas.
"The first one is materials efficiency and circularity," she explains. "This is about improving product and equipment design, and materials, processes, systems. Sorting out traceability and recycling is very important. In some of these products, like plastics, the collection infrastructure is not fully in place, especially in developing countries, and plastic leakage is having major impacts on the environment.
"Efficiency means less cost for companies. A circular economy can also create new revenue streams from the reutilisation of waste that would otherwise end in landfill," she adds.
Figure 4: Why energy efficiency and demand management matter
In the harder-to-abate sectors, energy efficiency improvements and demand management can:
Reduce CO2 emissions:
Reduce cost:
Reduce the scale at which decarbonisation technologies need to be deployed:
Source: Material Economics analysis for the Energy Transitions Commission, 2018
Mendiluce lists electrification and hydrogen as the second and third innovation areas, which are going in the right direction.
The fourth is biochemistry and synthetic chemistry, where interesting things are beginning to happen, although more progress is needed. New materials are the fifth area of innovation. "It is really interesting to see some substitutes for coal and cement, as well as new bioplastics," she says.
Last, but not least, is CCUS.
Estimating the cost of decarbonisation
There is a lot of debate at the moment on the social impact of decarbonisation, as the added costs are likely to be passed on to end consumers.
The majority of the associated costs in aviation will be passed through to customers
"If you look at aviation, they have been trying to be more stringent on carbon control but the majority of the associated costs, especially in Europe, will be passed through to customers," says Cristiano Mela, credit research analyst at Aviva Investors.
The good news is that, while cost increases are considerable in some cases like aviation, most price increases for end customers look like they will be negligible.
"We have looked at the numbers very carefully and have examples showing that for the end products for a customer – a car or a plastic bottle, a building and so on – the cost increase does not have to be high, in the order of one per cent. So from a societal perspective, there is not that much cost," says Åhlén.
Figure 5: The cost to consumers of decarbonising hard-to-abate sectors will be small
Heavy industry:
Heavy-duty transport:
Source: 'Making Mission Possible', Energy Transitions Commission, 2018
"But the cost increase in the B2B part of the value chain is very high, so that's the really big challenge for the industry," he adds.
Abatement costs will be more moderate in heavy industry and decline in the longer term as technologies come to maturity and scale
On the production side, the cost of decarbonisation will vary by sector. Research commissioned by the Energy Transitions Commission found that abatement costs will be more moderate in heavy industry and decline in the longer term as technologies come to maturity and scale.
They may range from $25 to $60 per tonne of steel, and from $120 to $160 per tonne of cement. The cost would remain higher for plastics – over $200 per tonne excluding a switch to renewable feedstocks, and this is where materials efficiency and recycling will have a crucial role.
Utzinger explains that if we are serious about decarbonising hard-to-abate sectors, a global industrial policy is needed. "At the moment, there is no hint of that," she says. "At the recent G7 meeting [held in Cornwall, England, in June 2021], no serious steps towards climate change were made despite the headlines. That does not bode well for COP26."
Joining forces
Building a zero-carbon economy by mid-century will require a dramatic acceleration in the pace of investment. While it is affordable, it will not happen unless countries set clear targets, design policies to support key technology developments, price carbon, drive energy efficiency and ensure key infrastructure developments.
The greater customers' commitments to buy net zero, the easier it becomes for producers to make the necessary investment decisions
Some investments will be made at government level, such as certain parts of infrastructure, but much will depend on companies. For them to be able to make decisions to invest millions into each plant, they need to find a business case that can work, for themselves and their customers.
This is why demand is crucial: the greater customers' commitments to buy net-zero steel, cement or plastics, the easier it becomes for producers to make the necessary investment decisions.
One element that can support demand is the ability to translate slightly higher prices into an attractive end-consumer promise, such as living in a net-zero building or, for a freight company, buying net-zero trucks that don't just run on electricity but are also made from net-zero steel.
Coming together
Coordinating the moving parts of value chains is essential and at the heart of some of the most influential initiatives to decarbonise hard-to-abate sectors, such as the Mission Possible Partnership, the UN's LeadIT and the We Mean Business Coalition.
Mendiluce adds the industries need to agree on a roadmap to net zero, developed jointly by all stakeholders, so they can establish ambitious, science-based targets and start to act and show real progress against the roadmap. "That's where the investor community plays an important role, because by incentivising, supporting and pushing these companies to go faster, we can drive real change and transformation," she says.
Governments are also key to supporting the transition.
"Public procurement policy is another demand signal that can help on the cost of finance," says Watt. "Once you know you can sell low-carbon products, you can go to the banks. It's then a lower-risk investment for them, so the cost of capital might be a sliver lower."
The risk of stranded assets could also impact companies' balance sheets and hamper their access to capital; those businesses could need financial support when this happens.5 Turner adds a number of the new technologies will require public investment in research and development.
Investment opportunities and risks
In turn, the 2018 'Mission Possible' report notes investors could help accelerate decarbonisation by: better evaluating climate-related risks and opportunities; establishing clear plans to shift their investment portfolios; and developing 'green investment' products with the support of development banks to facilitate sustainable infrastructure investment in developing countries.6
The divestment movement to, by default, not finance fossil infrastructure is a major change
"The divestment movement to, by default, not finance fossil infrastructure is a major change," says Åhman. "There are different views on this, but in Europe at least it has had some effect. Just asking the question: "Should we really take this risk?" has led to some change.
Chopinaud sees cause for optimism in subsidies, like those that supported the early development of renewable energy. "Steel and fossil fuels receive huge subsidies across the world in different shapes and sizes," he says. "Could those be redirected to develop solutions and decarbonise heavy industry?" This kind of support could create a stronger investment case for hard-to-abate industries.
Watt also sees opportunities in the companies that provide infrastructure for net-zero technologies, from hydrogen transport and storage to CCUS plants and electrolyser technology.
Chopinaud sees opportunities in parts of steel as well, in electric arc furnaces capable of incorporating scrap steel. This is currently limited to supplying areas like construction, while aerospace or vehicles still require primary steel, but it could change as the technology evolves and steel quality improves.
Julie Zhuang, global equity portfolio manager at Aviva Investors, sees potential in other areas too, from substitution solutions such as rail to replace aviation or new materials to replace carbon-intensive steel or cement, to industry leaders in relatively new technologies like sustainable biofuels. "For heating buildings, heat pumps have a negative green premium," she says. "They are more efficient than current higher-carbon heating technologies, so the economics are in your favour as an investor."7
"Let's remember that, while a good contribution, these 2030 and 2050 targets are not legally binding for companies," says Åhlén. "We are optimistic companies will spur each other into action in a race to net zero but the next five to ten years will be crucial. Decisions need to start happening now – and the positive thing is we are starting to see a lot of activity."