Aviva Investors, the global asset management business of Aviva plc ('Aviva'), has published an ambitious net zero pathway for its Real Assets business as part of the Better Buildings Partnership Climate Change Commitment.
The pathway outlines how Aviva Investors aims to reach net zero emissions across the whole of its £47.3 billion Real Assets platform by 2040, as it seeks to improve the sustainability of new and existing building stock across the UK and support clients in addressing the climate transition within illiquid assets.
The commitment covers multiple layers of the investment process; from asset origination to asset management and ongoing stakeholder engagement. As well as tackling real estate and infrastructure, it extends into private debt, an area where ESG integration and alignment with climate transition strategies has traditionally been viewed as complex.
Ensuring that these commitments are met with measurable actions, the initiative is supported by five explicit short-term interim goals that Aviva Investors expects to be delivered over the next four years to 2025, including:
Investing £2.5 billion in low-carbon and renewable energy infrastructure and buildings;

Increasing low-carbon and renewable energy generation capacity to 1.5 gigawatts;

Originating £1 billion of climate transition-focused loans;

Creating at least 50 per cent of new pooled strategies with sustainable or impact labels;

Reducing real estate carbon intensity by 30 per cent and energy intensity by 10 per cent     
Mark Versey, Chief Executive Officer1 at Aviva Investors, said:
"The climate crisis is the single largest risk facing our society and economy, but it also represents great opportunity. The real assets sector wields a great deal of investment influence and firepower and must quickly move on from high-level pledges to demonstrate meaningful action. The goals of our net zero commitment are ambitious and, most importantly, set out material proof-points that we can be measured against. They follow on from the progress made by our Real Assets business over the three years since its inception, demonstrating our continued commitment to building a better and more sustainable economy."
The announcement follows the recent launch of Aviva Investors' proprietary Sustainable Transition Loans Framework by its Real Estate Debt team, which incorporates second party opinion from Vigeo-Eiris, the ESG rating and research agency, to ensure that the loans comply with LMA sustainability-linked loan principles.
The Real Assets business at Aviva Investors is expecting at least £500 million of newly originated assets each year to be low-carbon or renewable, with additional investments being made into transition-focused assets such as energy efficiency improvements to existing real estate and social infrastructure. Over the past five years, Aviva Investors has invested £5.2 billion into low-carbon and renewable energy infrastructure assets on behalf of its clients, including solar, wind and energy centres. This has taken its total energy generation capacity to 730 megawatts in the UK and Europe, enough to power one million homes.
Aviva Investors will seek to decarbonise existing real estate assets through opportunistic investment activities, refurbishing assets to improve their overall energy efficiency rating, rental performance and value. In 2016, the business launched its Smart Buildings Programme, which uses smart technology to minimise the energy usage of buildings. To-date, the initiative has delivered over £1.8 million in avoided energy costs for occupiers, whilst also contributing to a 62 per cent reduction in carbon emissions across the buildings in Aviva Investors' portfolio of assets.
Ed Dixon, Head of ESG, Real Assets, at Aviva Investors, added:
"Achieving net zero across our real assets portfolio and decarbonising the existing stock of underlying assets will require commercial ingenuity as well as collaboration with our clients, occupiers and borrowers. Direct emissions from buildings, power and transport are responsible for 60 per cent of UK emissions, so we are under no illusion that it is a simple task. However, the long-term risks and the potential performance benefits for our clients' portfolios are too great to ignore, whether that comes through avoided energy costs or future-proofing buildings from longer-term ESG and carbon risks. These measures will create a more resilient built environment, whilst minimising carbon outlays that would otherwise contribute to an irreversible environmental decline."
View the full copy of the investment goals and strategy to deliver on the ambitions of this programme.
1 Subject to regulatory approval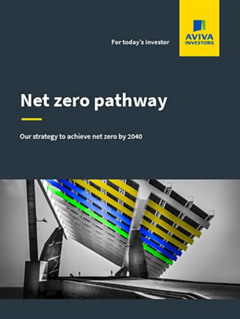 Net Zero Pathway
We outline how we intend to meet the changing needs of our clients and the terms of the Better Buildings Partnership (BBP) commitment, demonstrating the action we will take to invest in low-carbon solutions, whilst decarbonising existing assets across our platform. Through these actions, we believe we can better protect our clients' interests, whilst reducing the negative impacts of our investments on the environment and society.