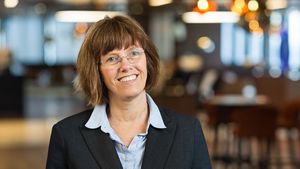 Laurence Monnier
Head of Quantitative Research – Real Assets
Main responsibilities
Laurence is responsible for Quantitative Research in respect of real assets in Aviva Investors.
Experience and qualifications
Laurence leads and coordinates quantitative research within the real asset research team, covering infrastructure, real estate and private debt investments. She joined Aviva in 2010 and has over 25 years' experience in real asset investing.
Prior to the creation of the real asset research team, Laurence was responsible for strategy and research for private debt and infrastructure. From 2010 to 2016, she led Aviva Investors Infrastructure debt business, which invested over £3bn across Europe during that time. Prior to joining Aviva Investors, Laurence had a 20 year career in banks and rating agencies, covering infrastructure and corporate credit. Between 2002-2007, she was a Director in Fitch Ratings' corporate utilities team and established the agency's European project finance ratings practice. Earlier in her career, Laurence was responsible for European project finance within Deutsche Bank's credit department.
Laurence holds a Masters from HEC (Paris) and the Investment Management Certificate (IMC).