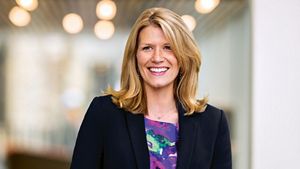 Sarah Morris
Chief People Officer, Aviva plc
Joined Aviva Investors in 2015
Main responsibilities
Sarah joined Aviva in August 2015 as Chief People Officer. She is responsible for the leadership of Aviva's People, Communications and Transformation strategy and is a key member of the Group Executive.
Experience and qualifications
Sarah is an experienced leader with significant international experience of driving change and business transformation gained across multiple sectors, in a range of industries, countries and cultures. Sarah is now leading the cultural shift at Aviva, which is in the process of transforming itself into a digital first business. It will be no mean feat to equip the 321 year old insurer with the right capabilities and skills to transform it into an innovative business – but it's a challenge that Sarah relishes. Sarah is a member of the 30% Club steering committee. She joined Aviva from US data and technology specialists, Thomson Reuters. Prior to that she held a number of roles at BP, providing operational and strategic leadership during the Gulf of Mexico oil spill crisis, RSA and Dixons Carphone.