As the challenges posed by climate change continue to loom large, due attention should be given to oceans, not just the solid ground under our feet and the air we breathe.
Carbon in the atmosphere is what we all worry about. But it's the oxygen in the ocean we've forgotten about that may also ultimately determine our fate on this planet
In a corner of Newfoundland's south coast known as Fortune Bay, where aquaculture dominates the local economy, workers at Northern Harvest Sea Farms started to see an unusually large number of fish dying in its ocean pens last September. Initially, they suspected sea lice as a possible culprit,1 but following an investigation the region's chief aquaculture veterinarian concluded a "climate event" caused an estimated 2.6 million salmon to die.2
Atlantic salmon usually thrive in ocean temperatures ranging between about two degrees Celsius and 12 degrees Celsius: Surface water temperatures in Fortune Bay had reached between 18 degrees Celsius and 21 degrees Celsius, the upper end of the danger zone for salmon.3 A period of unseasonably high temperatures led the fish to crowd at the deeper and cooler part of the sea cages, where they suffocated from a lack of oxygen.4
"We spent a full week on the south coast from September 26th to October 3rd," says Don Ivany, director of programmes for Canada's Atlantic Salmon Federation. "In the vessel we were on when we were monitoring this, the captain of the boat indicated the dead fish underneath his boat were nine fathoms deep. That's 54 feet of rotten fish on the bottom. It was a feeling of shock."
A shield from the effects of climate change
What happens to the oceans is not just a problem for Newfoundland's fish farms. It is one that reaches almost every corner of the global economy. Life began in the ocean, and more than 40 per cent of the world's population – including about 12 million people in Greater London – still live within 100 kilometres of the sea. Oceans connect the global knowledge economy, for example, through undersea cable networks. And, despite a meteoric rise in air traffic, the oceans are still the preferred global trade route, supporting more than 80 per cent of traded products worldwide by volume.5
Arguably, the oceans are the planet's most valuable asset. And they are getting hotter, more acidic and less oxygenated. "The closer you get to the science, the more nervous you get about the outcome," says David Cumming, chief investment officer for equities at Aviva Investors.
As human activities such as burning fossil fuels release more greenhouse gases (GHGs), less heat is directly reflected back to space. Part of the excess heat is absorbed by the Earth's atmosphere. but nearly all of it ends up in oceans (see Figure 1). Ocean heating is also more concentrated in the uppermost part, where most of the wildlife lives (see Figure 2).
Figure 1: Excess heat absorbed by different parts of Earth's climate system
A 0.6 degrees Celsius increase doesn't sound like a lot, until it is considered from the perspective that the oceans account for more than 70 per cent of the Earth's surface and over 90 per cent of the planet's total inhabitable space. In addition, it takes a larger amount of energy to raise seawater temperatures because of its higher density compared to the same amount of air molecules, much as it would take longer to heat up water on the stove than heating up the same volume of air with a hair dryer.
Figure 2: Sea surface temperature vs. 20th-century average, degrees Fahrenheit
If the heat absorbed by the uppermost 2,000 metres of the oceans between 1955 and 2010 were to be absorbed in the lower ten kilometres of the Earth's atmosphere, the average temperature would have risen by an estimated 36 degrees Celsius rather than the current estimate of about 0.8 degrees Celsius.6 Put another way, researchers at the University of Oxford estimated the heat currently going into the oceans is equivalent to between three and six atomic bombs per second.7

"We're an ocean planet," says Professor Dan Laffoley, principal advisor on the global marine and polar programme for the International Union for Conservation of Nature (IUCN). "Historically, our understanding of climate change has been largely gained by looking up into the atmosphere and across the land, but we haven't looked down at the ocean to see how fundamentally important it is and how thorough the support it provides is to everyone to some degree or another."
Under water
When seawater heats up, its volume expands in what's known as thermal expansion and raises the sea level; in addition, warmer water accelerates the melting of sea ice and ice masses from below as well as from above by the warmer air molecules, again leading to higher sea levels. Global tide gauge records and satellite images suggest oceans are between seven to nine inches higher on average than they were in 1870, with about a third of that added in the past 25 years.8
Rising sea levels are making coastal cities worldwide more vulnerable to flooding
As residents from Venice, Miami, Houston and, most recently, Jakarta know all too well, rising sea levels are making coastal cities worldwide more vulnerable to flooding, especially when combined with more frequent and powerful storms resulting from climate change.
"From the perspective of both infrastructure and, perhaps more importantly, real estate, some of the highest-value assets in the world tend to be ones that are most at risk, because people tend to build them by the seaside or other waterways such as rivers," says Laurence Monnier, head of quantitative research for real assets at Aviva Investors. "If we continue on a business-as-usual basis, the risk to the value of these assets is enormous."
In certain regions, rising sea levels are made worse by sinking cities. In some cases, such as Houston and Jakarta, the depletion of groundwater sources has gradually weakened the support system underneath, while high-rise buildings weigh on the land from above. Jakarta is now one of the fastest-sinking cities in the world, with about 40 per cent of the city below sea level.9
In London's case, human activities such as draining wetlands are also an issue, but the city is also sinking for very different geological reasons
In London's case, human activities such as draining wetlands are also an issue, but the city is also sinking for very different geological reasons. Since the glaciers in the north of the UK have melted, there is essentially less weight bearing down on Scotland, so it is slowly rising at a rate of about one millimetre per year. The seesaw effect has the opposite effect on London, which is sinking accordingly.10
Unlike Houston or Jakarta, however, London has the Thames Barrier, its primary flood-defence system. Opened in 1982, it was designed to protect London from a once-in-100-year risk of high flood levels up to 2030 by blocking high tides and storm surges from the North Sea. In its first ten years of operation, it was used about once or twice a year. With the increasing threat of higher sea levels on its doorstep, however, it is now used about six or seven times a year.11
The economics of ocean heating
Protecting areas along the coast, next to rivers and in proximity to other bodies of water, is becoming more challenging across the world. In the UK, for example, six of the ten wettest years on record have occurred since 1998, according to the UK Met Office.12
The impact of the ocean in regulating global climate is far larger than we previously thought
"It is becoming increasingly evident that the impact of the ocean in regulating global climate is far larger than we previously thought," says Professor Vicky Pope of the University College London's Department of Science. Pope previously led the climate predictions programme at the Met Office Hadley Centre.
Observations alone, however, cannot help us understand future risks and make decisions, she says. That's where climate models are needed. According the Met Office, the south of England will likely experience relatively higher sea level rises than the north, as predicted in the Christian Aid report on sinking cities (see Figure 3).
Figure 3: Sea level rise in the UK (by 2100 relative to 1981-2000)
Equally important, though, is to recognise the models themselves have limitations. They might help us to understand possible future climates and the risks involved, but still contain some major uncertainties. "For example, if you look at those maps, they don't give you one number, they give you a range," says Pope. "That range reflects the uncertainties. The point, though, is that even at the bottom of the range, it's quite a big change. Then the question becomes: Do we want to take those risks?"

Similar to the adaptation strategy behind the construction of the Thames Barrier, when it comes to investments it may be more prudent to overestimate rather than underestimate climate change risks, Monnier says.
"I remember when we met with a client about investing in an offshore windfarm, one of the questions asked was on the risk of storms and high winds to unearth the cables connecting the wind turbines," Monnier adds. "When we finance or build a new piece of infrastructure, we need to be forward thinking about climate change risks."
Some people will no longer be able to afford to purchase insurance on certain assets because the risk has become too high
Ben Carr, capital risk director at Aviva, believes climate change is an increasingly important consideration for all insurance companies. "Those physical changes over time can have a big impact on our business models. Some people will no longer be able to afford to purchase insurance on certain assets because the risk has become too high," says Carr. "We need to understand all of those things to adapt our business."
Property is a good example, he adds, because the physical risks such as flooding or coastal erosion directly impact the market price. When investing in real estate debt, these risks could increase the probability of default, again affecting returns. "The way I think about climate change is that it is the delta of weather-related risks," he says.
Cumming adds that his equities team gauges climate change risks of sectors, industries and companies. They include factors such as the location of their physical assets and the potential impact of sea level rises; changes in weather patterns; and supply-chain contingency plans for extreme weather events.
As the role of ocean heating in climate change becomes better understood, its implications for investments are set to rise globally
As the role of ocean heating in climate change becomes better understood, its implications for investments are set to rise globally, not only for the valuation of physical assets – particularly in infrastructure and real estate – but also for entire sectors such as seafood, tourism and pharmaceuticals, where marine-derived drugs are an important new frontier.
Among the main climate-related threats to wildlife from these industries are large-scale changes to the ocean caused by human activities. When the ocean absorbs a large amount of carbon dioxide, for example, it can upset the water's pH balance upon which nature depends.
Agricultural runoff presents another challenge, because it can promote algae growth and reduce available oxygen for other organisms.
More recent research revealed the scale of deoxygenation is far worse than previously understood, Laffoley says. Because ocean heating affects the uppermost layer of water, the warming effect acts as a hot lid on the ocean and stops oxygen from getting to the deeper layers. In some hot spots, oxygen loss has been recorded at up to 50 per cent.
"In addition, when the ocean heats up, the metabolism – and therefore respiration – rate of the wildlife increases," Laffoley adds. "So, we have a situation in which the oxygen needed goes up in an environment that is itself struggling to get enough oxygen. This is a problem no one is really talking about, and fundamentally, it has great consequences for those of us living on land."
For example, ocean heating has been linked to the unusual oscillations in the sea-surface temperatures between the two sides of the Indian Ocean. This likely contributed to Australia's "notably low humidity, which enhances potential evaporation and increases fire danger" in 2019, according to Australia's Bureau of Meteorology.13 The same climate conditions also caused higher-than-average rainfall in eastern Africa, flooding the Horn of Africa. At least 250 people died and an estimated three million were affected by the devastation.14
Back in Canada, where unusually warm ocean temperatures led to Northern Harvest's salmon die-off,15 local residents lost jobs because the company no longer needed to process salmon. It had to write off about seven million Canadian dollars in lost fish stock, and spent an undisclosed amount on the additional clean up of thousands of tonnes of decaying matter leaking out to the ocean. The company's license to operate was also suspended.16
We must act as if this temperature peak is not an isolated event
"We must act as if this temperature peak is not an isolated event," says spokesman Jason Card. "We have to accept this as the new normal, so we are ready to deal with it."
The blue planet
More than 50 years ago, on Christmas Eve 1968, Apollo 8's Bill Anders took a photograph of Earth rising just as Mission Commander Frank Borman turned the spacecraft on the far side of the moon. Taken with a Hasselblad still camera fitted with a 250-mm telephoto lens, 'Earthrise' revealed the planet for the first time in colour as it appeared from deep space.
The photo changed how the world saw the planet and became a symbol of global unity. It was also credited with helping launch the environmental movement, with Earth Day first held just over a year afterwards. The world again needs to refocus its attention on the blue planet, with particular emphasis on the blue.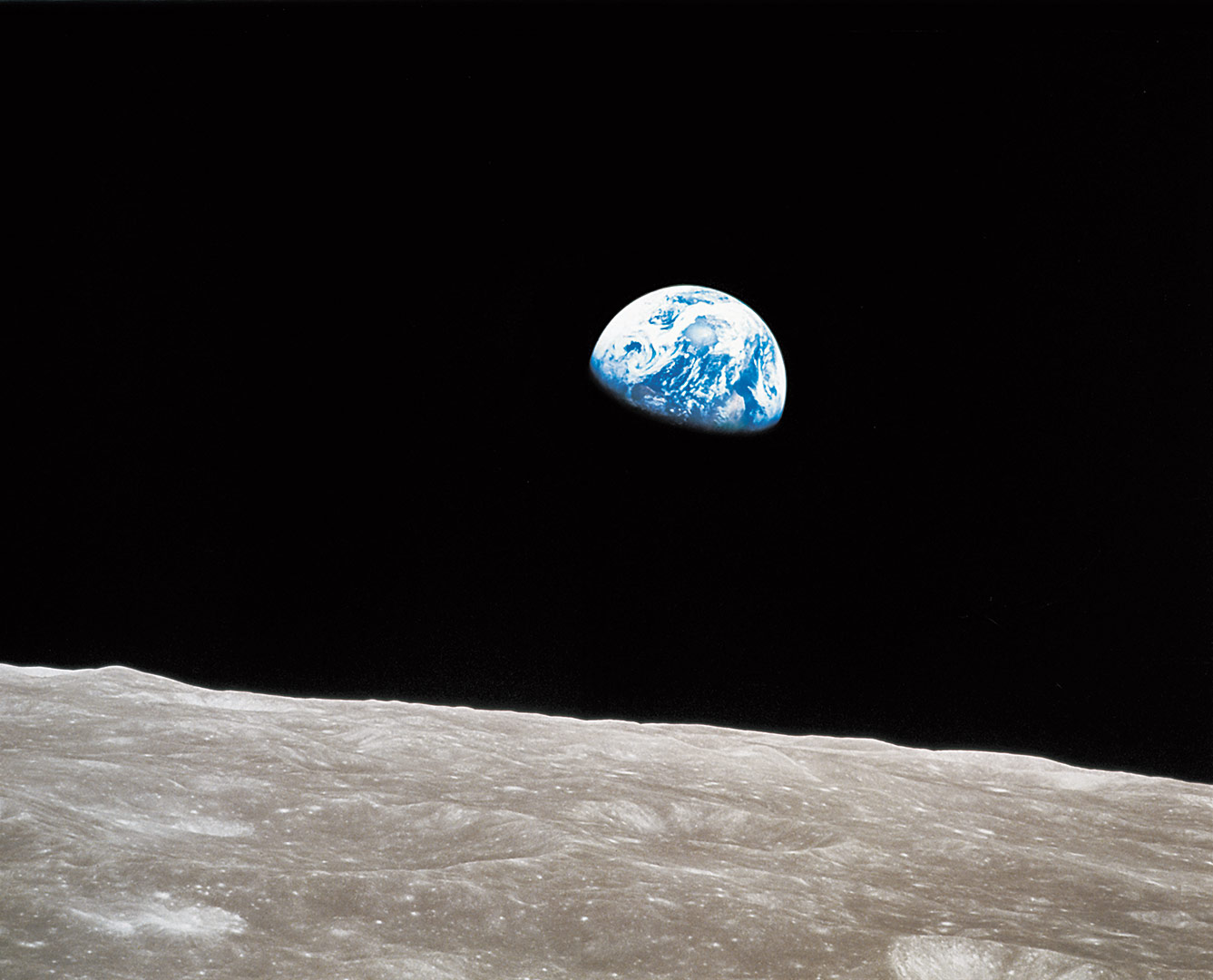 Source: NASA, photo taken by Bill Anders on December 24, 1968