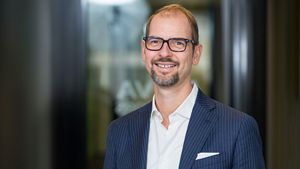 Matthias Hübner
Fund Manager Long Income Europe
Main responsibilities
Matthias is Fund Manager Long Income Europe and manages the Continental Europe Long Lease Strategy (CELLS). 
Experience and qualifications
Matthias has over 20 years of investment and fund management experience in international real estate and infrastructure. He joined Aviva Investors in 2017.
From 2012 until 2016 he developed an infrastructure fund concept for German institutional investors focussing on the DACH region as Managing Director of EUREAS Infrastruktur. From 2005 to 2012 Matthias was Head of Fund Management and Acquisitions for Morgan Stanley Real Estate Investment in Frankfurt, where he concentrated on managing international real estate investments across various sectors for German funds. Prior to this, he set up a new real estate fund line for German institutional investors of Deka Immobilien Investment. Matthias started his career at the end of 1995 in project finance for Philipp Holzmann Ventures and private equity with IQ Capital AG.
Matthias graduated from European Business School (ebs) as Diplom-Kaufmann with majors in real estate economy and finance. He also qualified as a member of the RICS and is fluent in 4 languages.