As more countries contemplate their visions for a lower carbon world, what are the options for transitioning away from fossil fuels to heat buildings?
Before COVID-19, 28 per cent of all carbon dioxide (CO2) emissions came from the built environment, according to the International Energy Agency.1 Demand for energy for heating and cooling and other plug-ins was growing much faster than efficiency and decarbonisation measures were cutting it.
So, how can we cap energy appetite and decarbonise heating, one of the knottier problems on the path to net zero? Substantial progress has been made in many other areas, but this is one where large-scale change is yet to arrive. 
Take Germany. It is dealing with the legacy of a tax environment that has been light on heating oil. Independent think tank Agora Energiewende recommended large cuts in total energy consumption, phasing oil out entirely for space heating and a major drive to speed up the installation of heat exchange systems.2 That call has been followed by policy moves to boost wind power and hydrogen, along with funding for fuel cell heating.3
The UK is targeting a 30-fold increase in heat pump installations each year from today's level by 2028
Meanwhile, in the UK, pressure to increase the use of heat exchange systems is building. Installations are running well behind European neighbours, partly due to the UK's gas distribution network. To achieve net zero, methane needs to go4 and, as more than 80 per cent of households currently use the main gas grid, this is a major challenge. Once again, heat pumps are a potential solution,5 with the UK targeting a 30-fold increase in installations each year from today's level by 2028.6
But there is still a perceptual mountain to climb. Markets like France, Italy and Spain have seen sales growth in the double digits, which has led to bullish 'what if' scenarios from the heat pump industry. What are the earnings opportunities if all markets scale up? At the moment, heat pumps are perceived to have 'no advantages' or 'limited advantages' versus natural gas heating.7 So, why change?
Harnessing ambient energy
Heat pumps offer important benefits. Most significantly, one unit of (applied) electricity can result in between one and a half and three units of useful energy. This is possible because of the way ambient energy is harvested: there is no need for combustion. The precise amount of energy depends on the differential between the heat source and its destination and how the system is designed.
Heat pumps give out steady heat, so can't respond swiftly in cold snaps
Combined with effective insulation, energy use and CO2 emissions can be reduced, and a comfortable environment created where indoor temperatures do not fluctuate dramatically. It is not all good news, though: heat pumps give out steady heat, so can't respond swiftly in cold snaps.
Environmentalists also flag the climate warming potential of some materials used in chemical refrigerants, greater per unit than CO2.8
"Heat pumps can be installed in most properties; generally, the most suitable sites are new builds, properties that are being heavily renovated, and larger-sized properties," says Martyn Bridges, technical director at Worcester Bosch, a company that has produced heat pumps commercially for twelve years. "You need adequate insulation, and the radiators or underfloor heating system need to be correctly sized for the lower temperatures a heat pump runs at."
Energy options and trade-offs
The system requirements can be accommodated easily in new builds and large re-fits, but generate issues in older, occupied buildings.
No developer would reasonably spec a large new building reliant on gas
"Converting involves taking existing boilers out, finding a new location for a hot water storage cylinder and changing the radiators to larger ones," Bridges says. "The pipework supplying water to the radiators often needs to be changed too, which might mean accessing pipework under the floors. In our experience, you often need to replace the entire heating system, not just the boiler."
Commercial developers and property managers are aware of these issues, driven by European regulation and benchmarking.
"No developer would reasonably spec a large new building reliant on gas," says Ed Dixon, head of ESG for real assets at Aviva Investors. "But there is still an issue with refurbishment. The gap in price between an air source heat pump and a standard gas boiler can be a significant enough hurdle for people to kick the can down the road. Refurbishment cycles come at intervals every five, ten or 15 years. If we install gas boilers today, we are responsible for perpetuating the problem."
Nevertheless, in consumer trials, the dislike of disruption is proving a dampener, even when heat exchange systems are offered at low or zero cost.
Heat pumps are proven and deliver useful heat efficiently, but those are not the only considerations
"Heat pumps are proven and deliver useful heat efficiently, but those are not the only considerations," explains Jaime Ramos Martin, global equities portfolio manager at Aviva Investors. "If you take a nation like France, which is highly electrified and the gas grid is less developed than in the UK, it is comparatively easy to make the psychological leap. In the UK, the main gas network is well developed and a lot of the housing stock is old. There may be more barriers and greater reluctance to make that initial investment." 
Infrastructure constraints
Network capacity is another consideration, as electric heat pumps will inevitably ramp up the load on the grid. "This is an issue, but remember we have a lot of renewable assets that are being curtailed," says Jolanta Touzard, director of infrastructure at Aviva Investors. "If we have a surge of demand from electrification, you could release that curtailment and put these assets to fuller use. The problem then is: what time do you do this during the day? Wind and solar do not generate electricity consistently, so it is likely that energy storage will have to be enhanced via reliable batteries or other means, such as hydrogen. The issues need to be addressed in a systemic way."
Much depends on where the electricity originates to drive the pump
Heat pumps have the potential to trim consumption, but savings vary because of site-specific factors. The same is true when assessing carbon impacts: much depends on where the electricity originates to drive the pump and whether there is effective insulation to slow any subsequent heat loss.
"The challenges lie in how to upgrade heating systems and perhaps the whole fabric of the building in a way which is economically viable. The process may take some work, but there is no question about the destination," says Sam Carson, director of sustainability at Carbon Intelligence, a consultancy that advises companies on how to reduce their carbon footprint.
Hydrogen for space heating
Meanwhile, progress is being made on utilising hydrogen for heating buildings. This is a nascent approach; the idea is that if the gas in the existing grid is made greener, it could offer a low-friction route to decarbonise. It is possible to implement this by introducing hydrogen into the fuel blend, initially with a 20 per cent mix, with the prospect of increasing that in the future. For those off-grid, there is also potential to generate hydrogen in smaller heat networks.
For green hydrogen to be produced at the scale needed, demand has to meet supply
"For green hydrogen to be produced at the scale needed, demand has to meet supply," says Touzard. "The two parts of the equation cannot grow in tandem if there is no financial and policy support for producers and off takers of green hydrogen."
Touzard points out the timeline for commercial wind developments to evolve from 'new' to 'mainstream' took around seven years. Energy consultancy Aurora anticipates a meaningful amount of buildings heated by hydrogen across Europe by 2050.
Figure 1: Europe bottom-up hydrogen forecasts, including low- and high-demand scenarios by 2050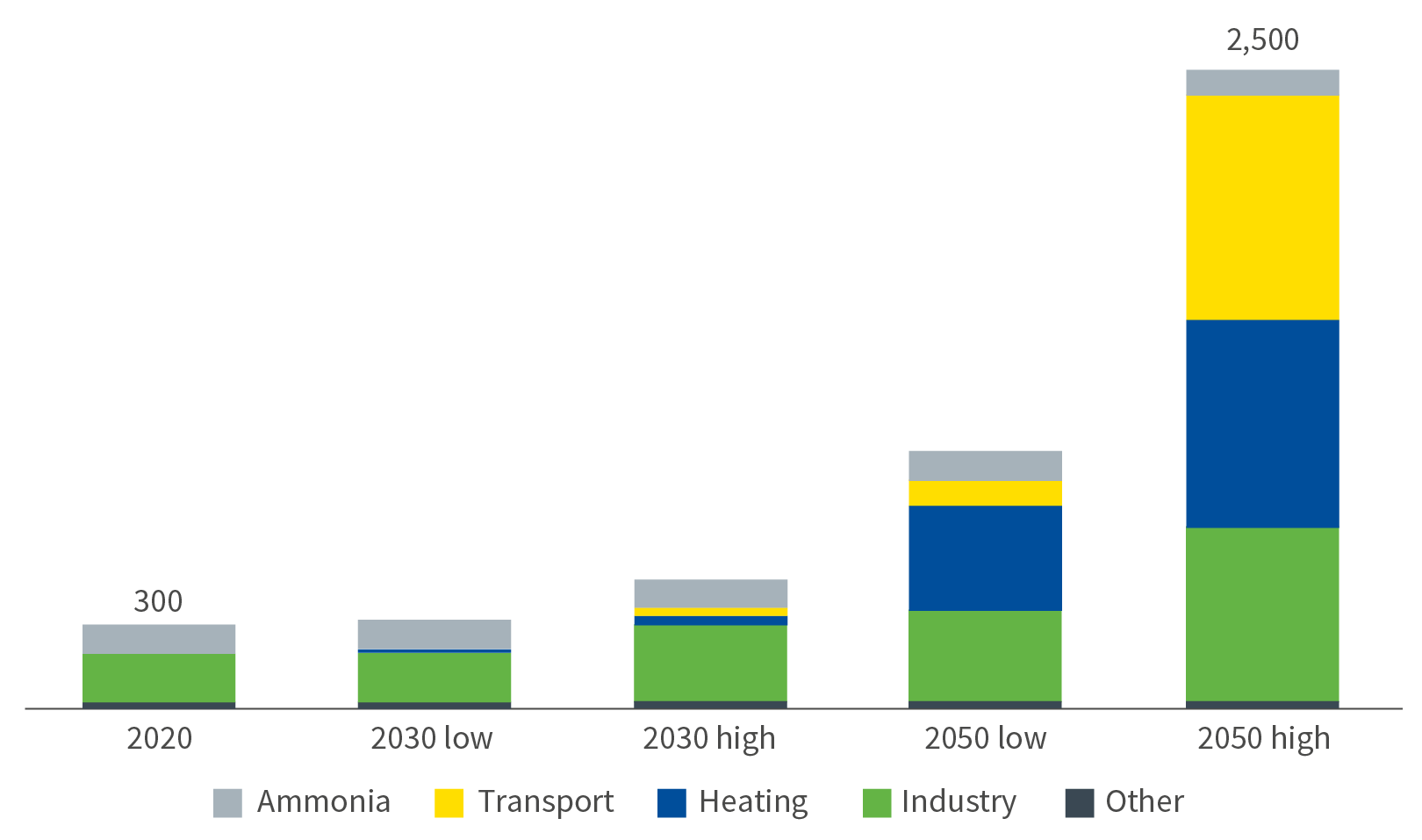 Note: Europe includes the 30 countries in the European Economic Area and Switzerland. Demand includes all types of hydrogen; Heating includes district heating and gas heating. Other includes small and medium scale industries. 'Europe's Hydrogen market: Where's hot and where are the biggest regulatory barriers?' Aurora Energy Research Ltd, January 21, 2021
In the UK, progress is further advanced at a network level than many realise, mainly because the grid upgrade began before the hydrogen conversation gathered pace. Regional gas operator Northern Gas Networks has already built a micro-grid on a site in Cumbria, which will ultimately replicate the whole of the UK network.
"We've been targeted by the government to have a hydrogen town ready by the end of the decade," says Tim Harwood, Northern Gas Networks' hydrogen lead. "Within the next five years, we are looking to have thousands of buildings running on 100 per cent hydrogen."
This implies the cost curve might change radically.9 (More background in Hydrogen: Back to the future). In current trials, prototype heating appliances from Worcester Bosch stand up against methane boilers. "The thermal efficiency of the boilers running on hydrogen is about the same as it is on natural gas," Bridges says. "But we also have zero CO2 emissions, no carbon monoxide and lower nitrogen oxide emissions. These are inherently safer appliances."
Might hydrogen-ready boilers be another growth area? "There are about 1.7 million domestic boilers sold in the UK every year," adds Bridges. "There is a chance they may put in place a policy that states only hydrogen-ready boilers can be sold from 2025. After ten years, they would have 17 million homes hydrogen-ready. After 15 years, they have 22 or 23 million homes ready, and it has not cost them a penny because the homeowner or housing association would have to change the boiler anyway."
Nevertheless, Harwood acknowledges that early on, any hydrogen supplied will not be green. "Initially we plan to use blue hydrogen, with carbon capture as a stepping-stone," he says. "Blue hydrogen is better than existing fossil fuels, but it is not as good as green hydrogen, and it is not our end goal."
Investment implications
Although the clock is still running on some of the big questions, there are investment opportunities from the impetus to decarbonise buildings.
Greening the energy coming in is likely to lead to a large expansion of battery storage
Greening the energy coming in is likely to lead to a large expansion of battery storage, for instance, to ensure renewable capacity is put to best use. Inside the home, there are opportunities too, in energy efficient appliances and insulation.
Research is concentrated on climate-friendly materials that do not include commonly used polystyrene or polyurethane, both produced from crude oil. These changes are the beginning, but the transition will not be delivered without a step change in understanding and reskilling.
Both geology and history have influenced the way energy networks have evolved, and they are impacting how lower carbon choices are being framed.
"Energy choices are not just about money," says Ramos Martin. "We need to change how buildings are run, but we also need to make the choices easy for people."