Eugenie Mathieu
Profile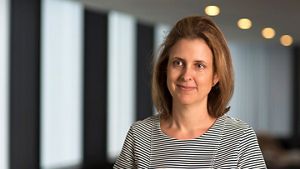 Job title
Senior ESG Analyst
Contact details
Work location
London, United Kingdom
Joined Aviva Investors
2018
Joined The Industry
2001
Biography
Main responsibilities
Eugenie is the Senior Analyst on the Aviva Stewardship Funds. This involves coordinating the extensive research into the social, ethical, and environmental screens, engaging with companies on a wide range of ESG issues, and developing thought leadership positions.
Experience and qualifications
Eugenie was part of Greenpeace International's Forests team, where she worked on deforestation driven by palm oil, pulp & paper, cattle and soy. Previously, she spent fourteen years as a sustainability consultant advising major international companies, including FTSE100s, on their social, ethical, and environmental strategies and performance. Prior to consulting, Eugenie worked with EIRIS on the creation of FTSE4Good in 2001, following an MSc in Business and Environment at Imperial College, London. She started her career as a strategy consultant with Bain & Company in London and Johannesburg, following a degree in Geography at Oxford University where she specialised in the history of climate change.
Turning talk into action
It is only through commitment, passion and genuine collaboration that we can bring our sustainable aspirations to life. In our "This is how" series, we profile some of the ways ESG helps us be better investors, for our clients, and for the world around us.
This is how