James Vokins
Profile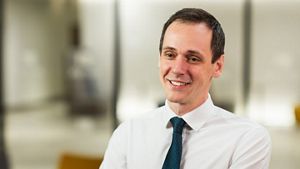 Job title
Head of UK Investment Grade Credit
Work location
London, United Kingdom
Joined Aviva Investors
2005
Joined The Industry
2004
Biography
Main responsibilities
James is responsible for the fund management of a number of the Aviva Investors focussed bond fund, investing in investment-grade corporates, high-yield corporates, government, and emerging market debt. James works as a co-manager on the Aviva Investors' Corporate Bond Fund, Strategic Bond Fund, Higher Income Plus, Monthly Income Plus, Managed High Income, and the Aviva Investors Distribution Fund. James also manages the RBS High Yield and RBS Extra Income funds.
Experience and qualifications
Prior to joining Aviva Investors, James worked for JP Morgan's Debt Capital Markets team. He holds a degree in Business Administration from the University of Bath and the Investment Management Certificate. He is also a CFA® charterholder.