Kate McClellan
Profile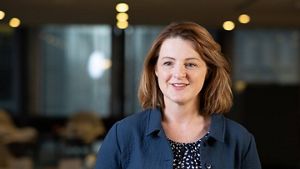 Job title
Chief Operating Officer*
Work location
London, United Kingdom
Joined Aviva Investors
2012
Joined The Industry
2002
Biography
Main responsibilities
As Chief Operating Officer, Kate is responsible for global operations and information technology across the Aviva Investors business. This includes the design and execution of an effective operating model to support the business with a focus on increasing operational efficiency and management of relationships with major outsource providers. 
Experience and qualifications
Kate has over 15 years of experience in the Financial Services sector having spent 10 years in Group Finance at Aviva plc before joining Aviva Investors in 2012. Prior to the interim COO role Kate was the Director of Global Funds Services and Controls Operations performing independent monitoring and operational processes that manage and oversee our regulated funds business and deliver compliance with specific regulations such as financial crime, CASS, MiFID II and data protection.
She has a track record of delivering change as well as significant process and control improvement across multiple regulations, asset classes, and geographies. Before joining Aviva, she was at PricewaterhouseCoopers, with experience in multi-national audit and transaction services in the UK and Romania.
*Subject to regulatory approval.
Turning talk into action
It is only through commitment, passion and genuine collaboration that we can bring our sustainable aspirations to life. In our "This is how" series, we profile some of the ways ESG helps us be better investors, for our clients, and for the world around us.
This is how