<!––/* Placeholder For Fund Commentary Hero */-->
Fund commentary
Aviva Investors Strategic Bond Fund
Quarterly review

for the three months to 30 June 2022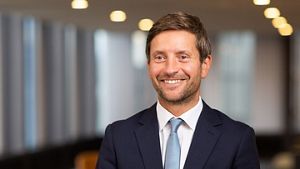 Chris Higham
Fund Manager
Summary
What happened in the market
Fixed income assets were pulled sharply lower by worries about aggressively tighter monetary policy in an environment of surging inflation. Credit spreads widened as inflation fears mounted.
How the fund performed
The fund posted a negative return over the quarter. Amid a turbulent backdrop, relative performance was supported by low duration positioning in April and May. However, exposure to defensive sectors was not as effective as would have been expected.
Looking ahead
The pace of central bank policy tightening and the potential for a recession dominate the shorter-term view. We are hopeful, however, that fixed income has now found a base from which to make gains.
Key facts
Share class inception date

22/09/2008

Fund size (as at 29/07/2022)

GBP 233.1m

Benchmark

Composite Index
Fund overview
Objective: To grow your investment through a combination of income and capital returns, whilst aiming to provide a net return greater than that of the benchmark over the long term (5 years or more) (after charges and taxes). The benchmark (the ""Index"") is a composite index, as detailed in our prospectus.
What happened in the market
The second quarter saw a sharp contraction in global growth, with recession looking an increasing possibility across the major economies. The key catalyst was surging inflation, with underlying factors such as the overhang from years of central bank money printing and a structural shortage of labour being exacerbated by an intensifying energy crisis in the wake of Russia's invasion of Ukraine.
Expectations for a measured normalisation of monetary policy in the wake of the Covid-19 crisis were thrown into disorder by the spike in inflation. Despite the growing prospect of recession, central bank rhetoric around the world became increasingly hawkish, with the US Federal Reserve flagging a series of hikes. The European Central Bank, which had been more cautious in its statements, finally signalled its intention to tighten policy, with a first of a series of interest rate increases being set out for July. The Bank of England raised policy rates in both May and June.
The realisation that inflation was going to get worse before it got better drove losses by government bonds, with longer-dated issues once again suffering in the expectation of further rate hikes. In the corporate bond markets, spreads widened as monetary policy worries were compounded by fears that a recession would lead to credit downgrades. The weakest sectors were leisure in the US, real estate in Europe and subordinated insurance in the UK.
How the fund performed
For the latest Monthly, Cumulative, and Annualised Fund performance data please refer to the PDF factsheet below.
Rolling annual performance
(As at 31/07/2022)
Calendar year returns
(As at 31/07/2022)
Rolling annual performance
Calendar year returns
Aviva Investors Strategic Bond Fund 1 GBP Inc rolling annual performance
Jun 17

-

Jun 18
Jun 18

-

Jun 19
Jun 19

-

Jun 20
Jun 20

-

Jun 21
Jun 21

-

Jun 22
Fund gross (%)
-0.50
3.57
5.85
6.80
-10.32
Fund net (%)
-1.45
2.67
4.92
5.87
-11.10
Benchmark (%)
0.33
6.18
3.18
5.02
-11.62
Aviva Investors Strategic Bond Fund 1 GBP Inc calendar year fund performance

| | | | | | |
| --- | --- | --- | --- | --- | --- |
| | 2017 | 2018 | 2019 | 2020 | 2021 |
| Fund gross (%) | 4.18 | -3.57 | 9.24 | 7.97 | 1.98 |
| Fund net (%) | 2.91 | -4.41 | 8.29 | 7.02 | 1.09 |
| Benchmark (%) | 4.04 | -1.78 | 9.29 | 5.77 | 0.59 |
Past performance is not a guide to future performance
Basis: Mid to mid, net income reinvested, net of ongoing charges and fees, in the share class reference currency and net of tax payable by the Fund. For full details of the benchmark please see the PDF factsheet.
The Fund's performance is compared against the one third Bloomberg Treasury G7 Index (GBP hedged), one third Global Aggregate Corporate Index (GBP hedged), and one third Bloomberg Global High Yield Index ex CMBS ex EMG 2% issuer capped (GBP hedged).
The fund posted a negative return in the quarter as fixed income assets suffered losses against the backdrop of inflation and tightening monetary policy. The fund benefited from being positioned with low sensitivity to changes in interest rates and a relatively cautious stance on credit risk. Having a low weighting in real estate was also helpful. However, exposure to defensive sectors such as media, technology and financials was not as effective as had been expected.
At the individual security level, the most value was added by the avoidance of the main losers, such as cruise operator Carnival. Of the issues held, pub operator Spirit was the main contributor. The exposure to Cellnex and the financial groups AXA and HSBC were the biggest detractors.
Looking ahead
Last updated 30 June 2022
As we enter the third quarter, there is a great deal of discussion about recession risk. Given the potentially toxic combination of supply-side shocks (war, COVID and post-COVID adjustments), real income squeezes from high inflation, tightening financial conditions (mainly because of higher rates), tumbling stock markets and collapsing consumer sentiment, it is understandable why such debates are taking place. 
There will always be a danger, when monetary policy is being tightened, that central banks go too far or too quickly. But in the context of inflation readings over the last year it can legitimately be argued that the policy mistake has been to tighten too late and too little. Whether or not that is true is inconsequential now as they have to deal with the present. The present is all about inflation and if regaining control of that requires bringing about slower demand growth deliberately – especially the case in the US – then so be it. 
There is undoubtedly value in credit but the market remains at the mercy of inflation and associated interest rate volatility which could persist for some time. In the meantime, we expect spreads to be very volatile. Valuations are now particularly supportive and we retain our overweights to hybrids and subordinated financials. However, the threat to gas supplies from Russia gives us caution, especially with respect to the more cyclical industrial credits, to which we are accordingly underweight. 
Risks
Full information on risks applicable to the Fund are in the Prospectus and the Key Investor Information Document (KIID).
Investment and currency risk
The value of an investment and any income from it can go down as well as up and can fluctuate in response to changes in currency exchange rates. Investors may not get back the original amount invested.
Convertible securities risk
Convertible bonds can earn less income than comparable debt securities and less growth than comparable equity securities, and carry a high level of risk.
Credit and interest rate risk
Bond values are affected by changes in interest rates and the bond issuer's creditworthiness. Bonds that offer the potential for a higher income typically have a greater risk of default.
Derivatives risk
Investments can be made in derivatives, which can be complex and highly volatile. Derivatives may not perform as expected, meaning significant losses may be incurred.
Illiquid securities risk
Some investments could be hard to value or to sell at a desired time, or at a price considered to be fair (especially in large quantities).As a result their prices can be volatile.
Explore all funds
Access key fund documentation and performance reports.
Important information
THIS IS A MARKETING COMMUNICATION
The source for all performance, portfolio and fund breakdown data is Morningstar unless indicated otherwise. All data is as at the date of the Factsheet, unless indicated otherwise.
Unless stated otherwise any opinions expressed are those of Aviva Investors. They should not be viewed as indicating any guarantee of return from an investment managed by Aviva Investors nor as personalised advice of any nature. This document should not be taken as a recommendation or offer by anyone in any jurisdiction in which such an offer is not authorised or to any person to whom it is unlawful to make such an offer or solicitation. Portfolio holdings are subject to change at any time without notice and information about specific securities should not be construed as a recommendation to buy or sell any securities.
For further information please read the latest Key Investor Information Document and Supplementary Information Document. The Prospectus and the annual and interim reports are also available on request. Copies in English can be obtained, free of charge from Aviva Investors, PO Box 10410, Chelmsford CM99 2AY. You can also download copies at www.avivainvestors.com
Issued by Aviva Investors UK Fund Services Limited, the Authorised Fund Manager. Registered in England No. 1973412. Authorised and regulated by the Financial Conduct Authority. Firm Reference No. 119310. Registered address: St Helen's, 1 Undershaft, London EC3P 3DQ. An Aviva company.
Bloomberg® and one third Bloomberg Treasury G7 Index, one third Bloomberg Global Aggregate Corporate Index, and one third Bloomberg Global High Yield Index ex CMBS ex EMG 2% issuer capped Index (the "Benchmark" or the "Index") are service marks of Bloomberg Finance L.P. and its affiliates, including Bloomberg Index Services Limited ("BISL"), the administrator of the index (collectively, "Bloomberg") and have been licensed for use for certain purposes by Aviva Investors. Bloomberg is not affiliated with Aviva Investors and Bloomberg does not approve, endorse, review, or recommend the, Aviva Investors Strategic Bond Fund. Bloomberg does not guarantee the timeliness, accurateness, or completeness of any data or information relating to Aviva Investors Strategic Bond Fund.
All performance figures shown are up to the latest month end unless otherwise stated and are on a total return basis. Up to 05 April 2017, the figures include income reinvested after deducting basic rate income tax. From 06 April 2017, income is reinvested without deducting this tax. This will impact fund performance figures post 06 April 2017.